Modern contemporary artists are showing how incredibly famous works of art, including paintings and sculptures are transformed with LEGO® bricks at upcoming exhibits in Atlanta and London—and it's astonishing!
LEGO® art is having a moment, and we're here for it! Chinese Artist Weiwei has recreated Claude Monet's Water Lilies #1 (1914-26) on the heels of an exciting upcoming exhibit in London, and Nathan Sawaya has created over 100 incredible sculptures made from LEGO® pieces for Art of the Brick Immersive, opening in Atlanta this spring!
The LEGO® version of Claude Monet's Water Lilies painting will be unveiled at the Ai Weiwei: Making Sense exhibit at the Design Museum in London starting on April 7th through July 30th, 2023. The work will be massive at 50 feet long, taking over an entire wall at the famed museum in Kensington, West London and will be Weiwei's largest UK show to date in eight years. Weiwei used over 650,000 LEGO® bricks to recreate Monet's iconic painting, swapping out the original artist's vivid brushstrokes with 22 different tones of these iconic building blocks.
Then, the world's most popular LEGO® exhibition: The Art of the Brick Immersive, will make its global premiere in Atlanta. After stunning millions of fans around the globe, the famed art show featuring detailed LEGO® sculptures by artist Nathan Sawaya is pivoting with an digital element.
Guests of the 'Art of The Brick Immersive Experience' in Atlanta can expect to see their favorite childhood building blocks as larger-than-life sculptures! The artist used nearly 1 million LEGO pieces to create his masterpieces that will be shown this spring. There will be a side of the exhibit showcasing the traditional sculptures and another area with rooms that show off these iconic works of art with video mapping, 360-degree projections, and incredible moving installations.
Some highlights you won't want to miss at the Atlanta exhibition include a 6.5-foot version of Sawaya's most famous piece, Yellow, the largest version of the sculpture to ever be shown at this world-famous exhibit. This bright yellow sculpture features a torso of a man tearing open his chest to reveal thousands of LEGO® pieces cascading out of it.
Other standouts will be replicas of 'Balloon Dog' by Jeff Koons, "Rainbow," celebrating humanity, the 25-foot 'Swimmer,' the 'Pinching Hand,' and 'Park Bench Person, ' and a special room celebrating nature and much more to admire!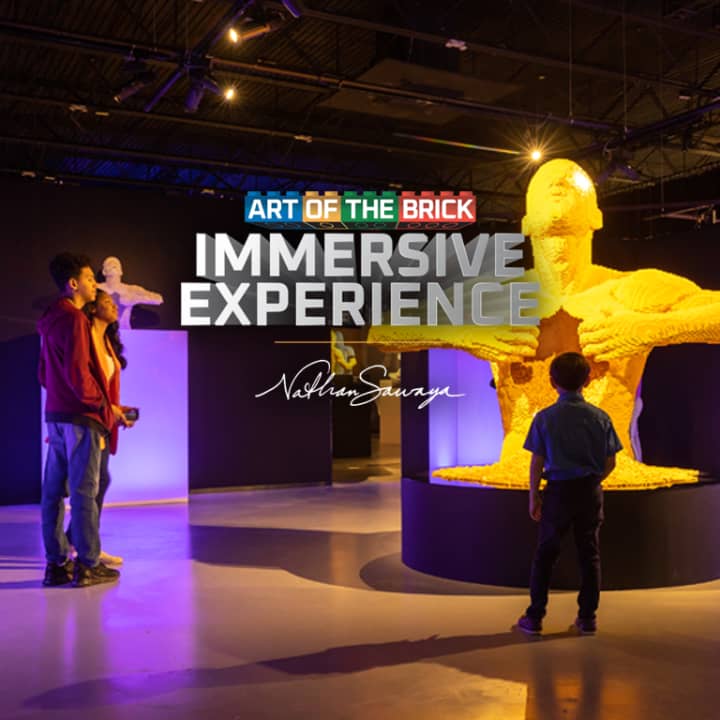 Art of the Brick Immersive Experience
---